Technology Support Systems Overview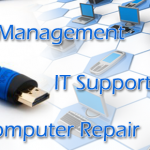 The Technology Support System department of Clay County Schools is responsible for repairs and maintenance of computers and servers throughout the school system. A TSS employee is responsible for many tasks including building and configuring new hardware, installing and updating software packages, creating and maintaining computer networks, along with installing and maintaining security, fire alarm, and intercom systems. TSS employees have a vast array of backgrounds, ranging from employees with over 20 years of experience and certification, to employees who are beginning their careers in technology maintenance through a TSS grant obtained from the state. In order to meet the maintenance requirements for over 5000 computers, the school system has partnered with RESA to provide the necessary personnel to accomplish this sizable task.
Technology is playing a bigger role than ever in the advancement of education throughout the world. The TSS department plays a vital role in ensuring that our software and hardware are as up to date as possible and guaranteeing that our children and teachers are given every opportunity needed to provide the best education possible.